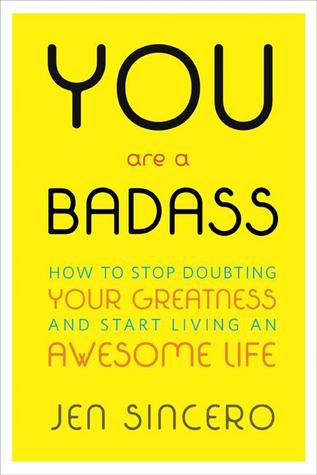 You Are a Badass: How to Stop Doubting Your Greatness and Start Living an Awesome Life
Penulis:
Jen Sincero
Jumlah halaman:
256 halaman
Tahun terbit:
2013
Penerbit:
Running Press
Harga:
Rp. 212.000 di
Periplus
Rating Shiori-ko:
3/5
Sinopsis:
Bestselling author, speaker, and success coach Jen Sincero cuts through the din of the self-help genre with her own verbal meat cleaver. Full of blunt humor, sage advice, and the occasional swear word, You are a Badass offers its readers new opportunities for growth through 35 chapters of exercises, suggestions, and hilariously inspiring stories.
From "Fear is for Suckers" to "Your Brain is Your Bitch" these chapters provide enlightening lessons: How to stop doubting your greatness, how to love what you don't love about yourself, and how to tap into source energy to live a bigger life than you've ever imagined.


Resensi Shiori-ko:
Masih berkutat dengan genre bacaan
self help
, judul ini merupakan rekomendasi salah seorang temanku (yang juga meminjamkan buku karya Paul Arden).
Gaya Bahasa, Kosa Kata, dan Penyampaian
Secara gaya bahasa dan kosa kata sebenarnya mudah. Cara penyampaiannya hampir serupa dengan
The Art of Thinking Clearly
yakni menggunakan analogi studi kasus sebelum masuk ke dalam inti pesan yang ingin disampaikan. Sayangnya, aku tidak cocok dengan gaya penyampaian yang seperti ini. Aku merasa bosan dan langsung melompati bagian-bagian awal untuk mencari inti dari setiap babnya.
Isi Buku
Pada pendahuluan, penulis menjelaskan bahwa buku ini adalah bergenre self help yang memiliki tujuan agar yang menjadi pembacanya semakin termotvasi untuk hidup dan percaya bahwa mereka adalah sosok yang istimewa. Hampir serupa dengan isi buku self help yang lain, berkutat dengan memotivasi diri, menjadi percaya diri, mengubah pola pikir, hingga saran seperti jangan lupa beramal.
Aku rasa apabila pembaca sudah pernah membaca buku dengan genre serupa atau seperti aku, membaca genre self help berturut-turut, akan muncul kesamaan dan inti yang sebenarnya sudah pernah ditemui sebelumnya. Kalau bagiku, buku ini semacam pengingat kalau diri manusia masing-masing memiliki speasialisasi.
Tidak hanya tertulis secara naratif, buku ini juga memiliki step by step supaya apa yang disampaikan oleh penulis bisa direalisasikan oleh pembaca. Cukup mudah sebenarnya, dan aku yakin kalau saran-saran seperti itu sudah pernah didengung-dengungkan. Maka dari itu aku tidak menemukan buku ini outstanding.
Saran Shiori-ko:
Secara keseluruhan, buku ini adalah bacaan ringan tentang menguak potensi dalam diri. Karena gaya penyampaiannya yang tidak cocok denganku, aku beranggapan kalau buku ini tidak semenarik bukunya Paul Arden atau Austin Kleon. Buku ini tidak to the point.